What Is Fantom and How Can I Use It?
Fantom is a high-performance blockchain developed by Korean computer scientist Ahn Byung Ik based on directed acyclic graph (DAG) technology. Different from blockchains, directed acyclic graph (short: DAG) is a network of individual transactions linked to multiple other transactions creating a tree structure instead of blocks. Fantom uses Lachesis, a revolutionary aBFT consensus mechanism to achieve scalability and increase the transaction settlement speed.
Can I Use DeFi on Fantom's Opera Network?
Funnily named the 'Fantom Opera Network' (do you get the wordplay? 😁) is Fantom's mainnet, that is 100% compatible with the Ethereum Virtual Machine (EVM), which allows developers to deploy their Ethereum smart contracts and allows you to use Fantom in a wallet like imToken.
This is why you have popular DeFi (decentralized finance) DApps on Fantom such as: SpookySwap, AnySwap, SushiSwap, Cream, Curve, Tomb, Geist, Beefy, Abracadabra, SpiritSwap, Hector DAO, Yearn, Reaper and more.
Compared with Ethereum mainnet, Fantom has lower gas fees and faster transaction settlement.
To Learn More, Dive into Our Further Readings:
How to Use Fantom Wallet in imToken
Download and install imToken and create/import an identity wallet. Note: Check the website security tips.
Enter the asset page of the ETH wallet, click "Ethereum" - "Fantom" to switch to the Fantom wallet for transferring and receiving money, and exploring its ecosystem.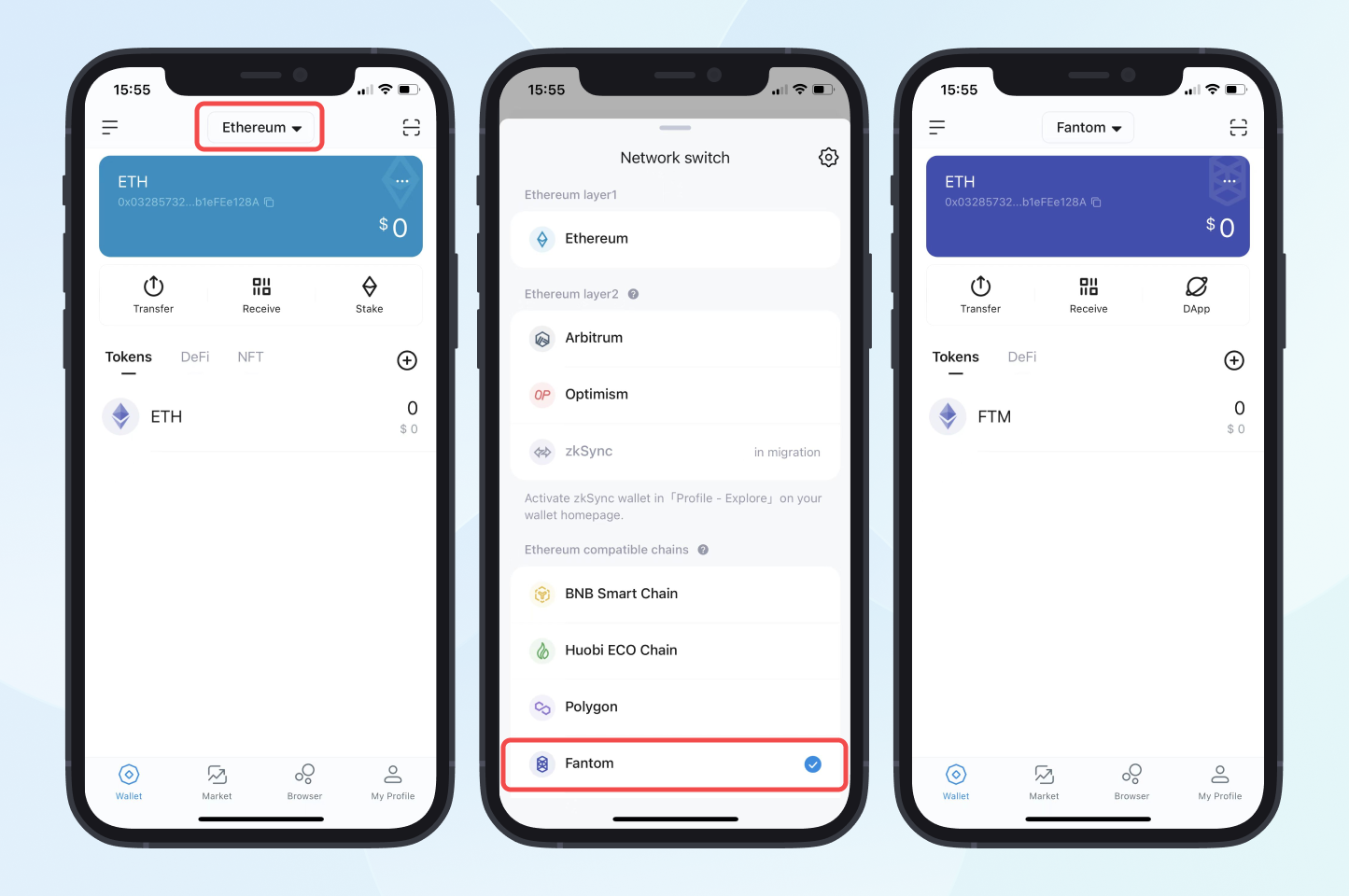 Learn more on our blog: How to use Fantom on imToken?
Explore the Fantom Ecosystem
Use the Fantom Bridge
If you want to send assets across Ethereum or BSC to Fantom, you can use the Multichain.xyz bridge. Open the site, connect your wallet and transfer ERC-20 tokens from and to the network.
Stake FTM on Fantom
To start staking your FTM, you can enter Fantom Staking on the official website. Simply click WalletConnect and scan with your imToken wallet to start. Make sure that you switched to Fantom network in your imToken app.
Fantom FTM Price
To check on recent prices and news, you can always find more information on websites such as Coingecko and CoinMarketCap. There, you will also find all the exchanges that currently listed FTM.
Fantom Blockchain Explorer
The Fantom ecosystem has two block explorers. Those are web tools that synchronize any transaction history with the Fantom Opera network, for you to view information about blocks, transactions, addresses. One is FTMScan, and the other is Fantom Explorer. You can use Fantom explorer in your imToken too.