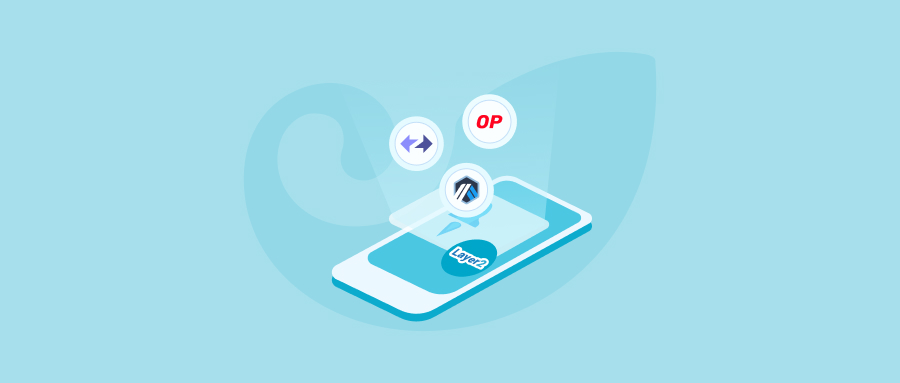 Decoded transaction history, DeFi Portfolio, EIP-3085, L2 push notifications and much more in the new imToken
Today we are excited to introduce a new way of working with Layer 2 (L2) to the world. L2s are clearly the future for cheaper and faster transactions inherited from Ethereum's security. With Arbitrum being the number one L2, we are proud to finally show you what we have been building over the past months.
But before we dive into the details, let us show you the new features that make imToken the best Artbirum wallet to date.
Our Arbitrum features, exclusively on imToken
👀 Understand what's happening: Decoded transaction and trade history

📊 Watch your DeFi Portfolio: Positions on Uniswap, SushiSwap, GMX, Dopex and many more

📲 Get notified of changes in your balance via push notifications, now including Layer 2
More of our favorite Arbitrum features
🌉 Start by bridging over some tokens via

Hop

,

xPollinate

,

Bungee

,

LayerSwap

or the official Arbitrum Bridge

💹 Watch your balance and L2 token prices thanks to multiple price sources

⛵ Switch to the correct networks within DApps (EIP-3085): GMX, Dopex, SushiSwap, Curve and many more

📸 Scan the QR code to use imToken on desktop DApps via WalletConnect
Now, let's dive into what it's all about.
Arbitrum leading the Layer 2 revolution by 5x
Arbitrum is the number one Layer 2 so far. Roughly 150,000 users per month are using popular DApps such as SushiSwap, Curve, Uniswap, dForce. But also new ones such as GMX and Dopex.
All together those users amassed over $3.1 billion in TVL since Layer 2's mainnet launch last September. Optimism, ranks 3rd in TVL learderboard, holds roughly $588 million TVL, only 19% of the tokens locked on Arbitrum.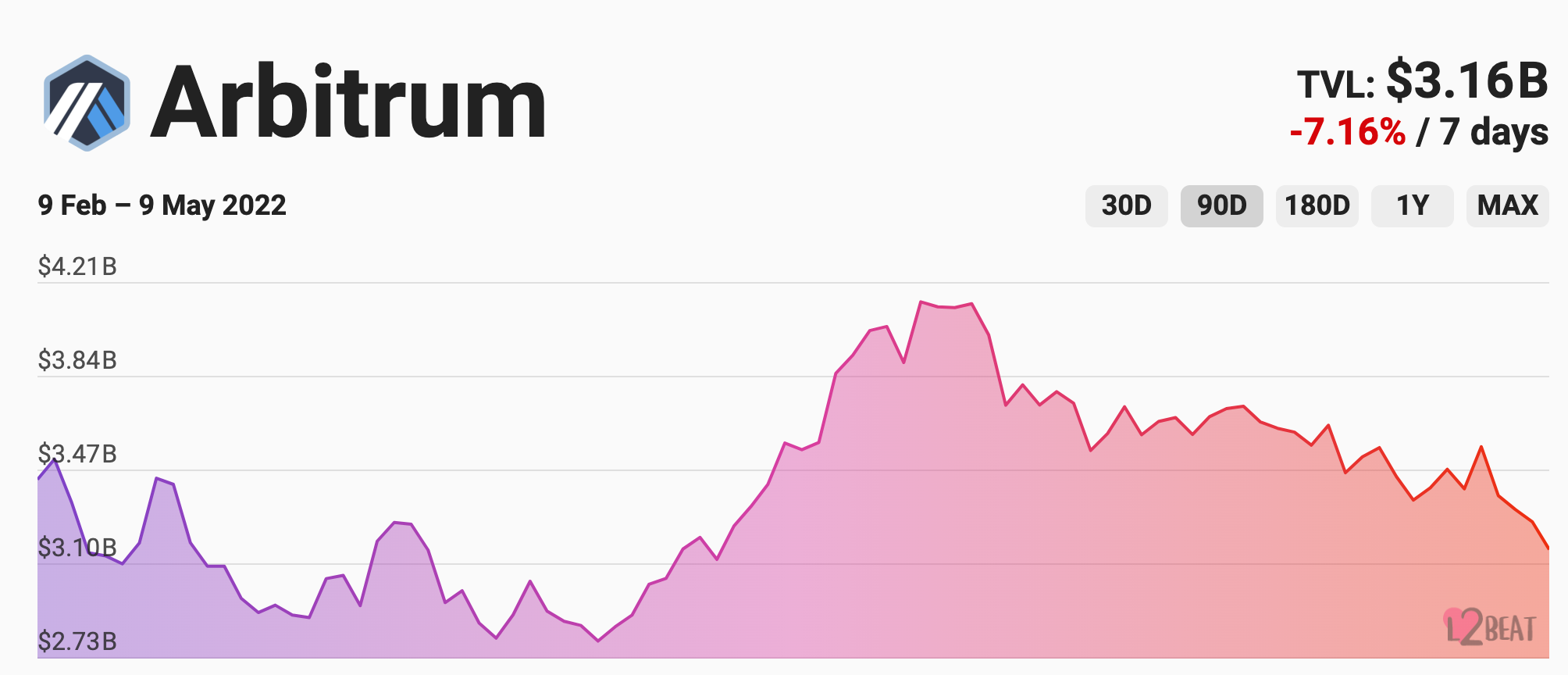 Like other Layer 2's, Arbitrum aims to reduce cost and increase speed while maintaining the security guarantees of Ethereum layer 1. The Optimistic Rollup achieves this by moving transaction data off-chain.
imToken Wallet: A new Arbitrum experience
Now let's take a look at our amazing new features👇
Easy: Jump right into Layer 2
No more fiddling with the knobs. Just get right into it.
Open your wallet to find an updated network switch on top. Click 'Arbitrum' or another L2 to get started.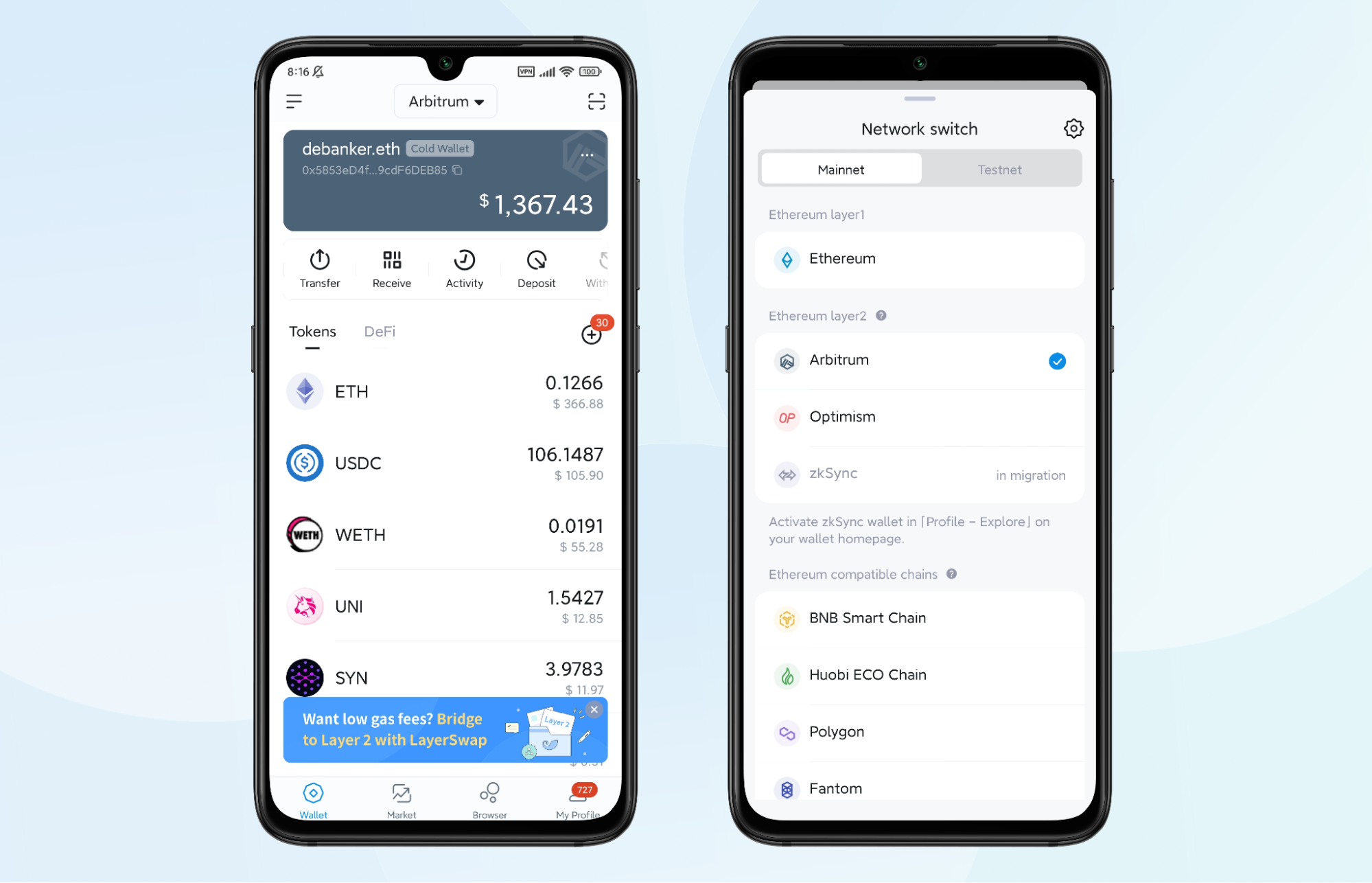 Need tokens on Arbitrum? Use LayerSwap to cheaply withdraw from an exchange.
Or bridge some tokens from Ethereum or other chains via Bungee, cBridge, Hop, Connext or the official Arbitrum Bridge.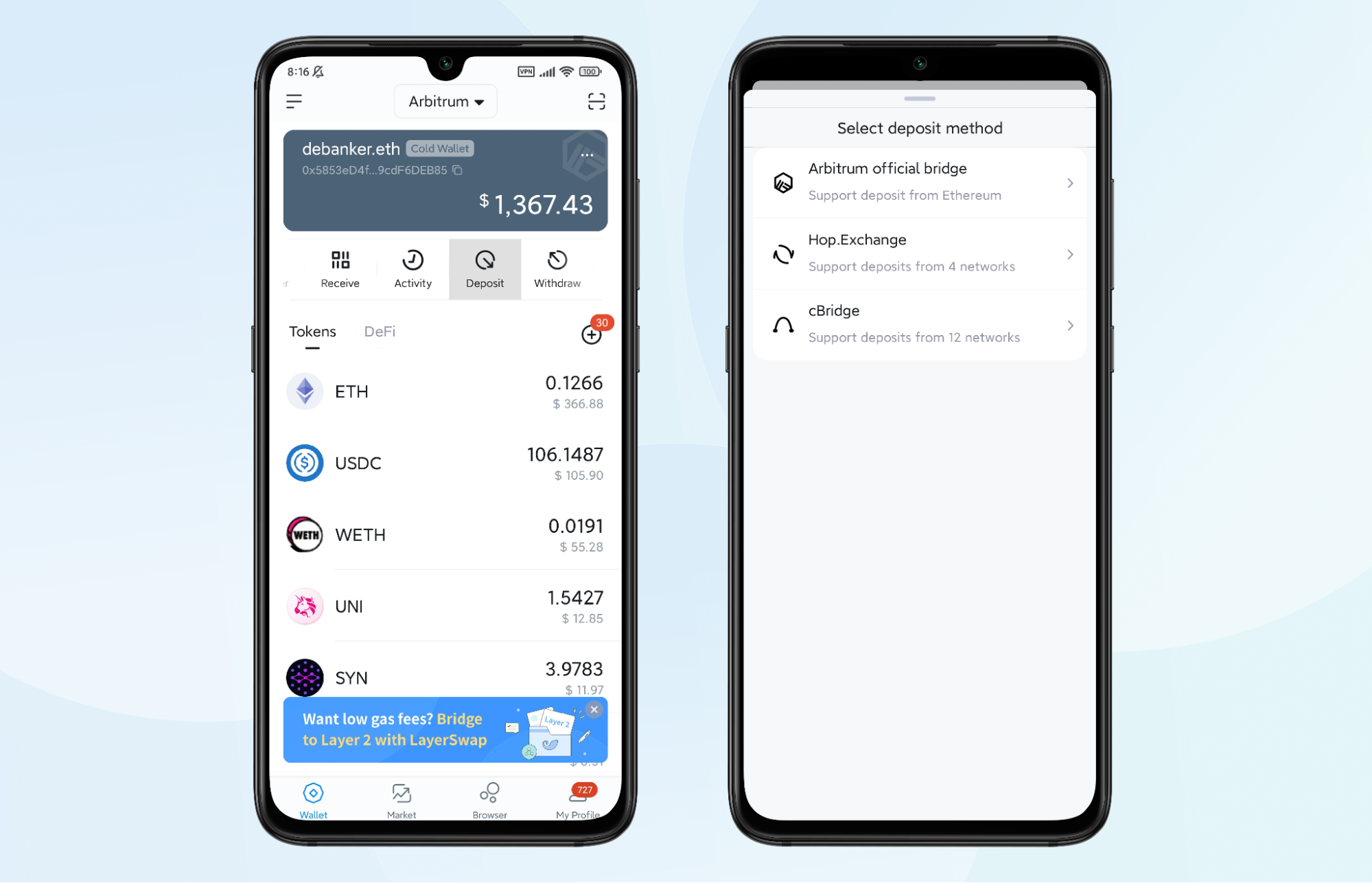 Jump right into your favorite DApps to get started. Or start with viewing your trades and balance. But more on that below.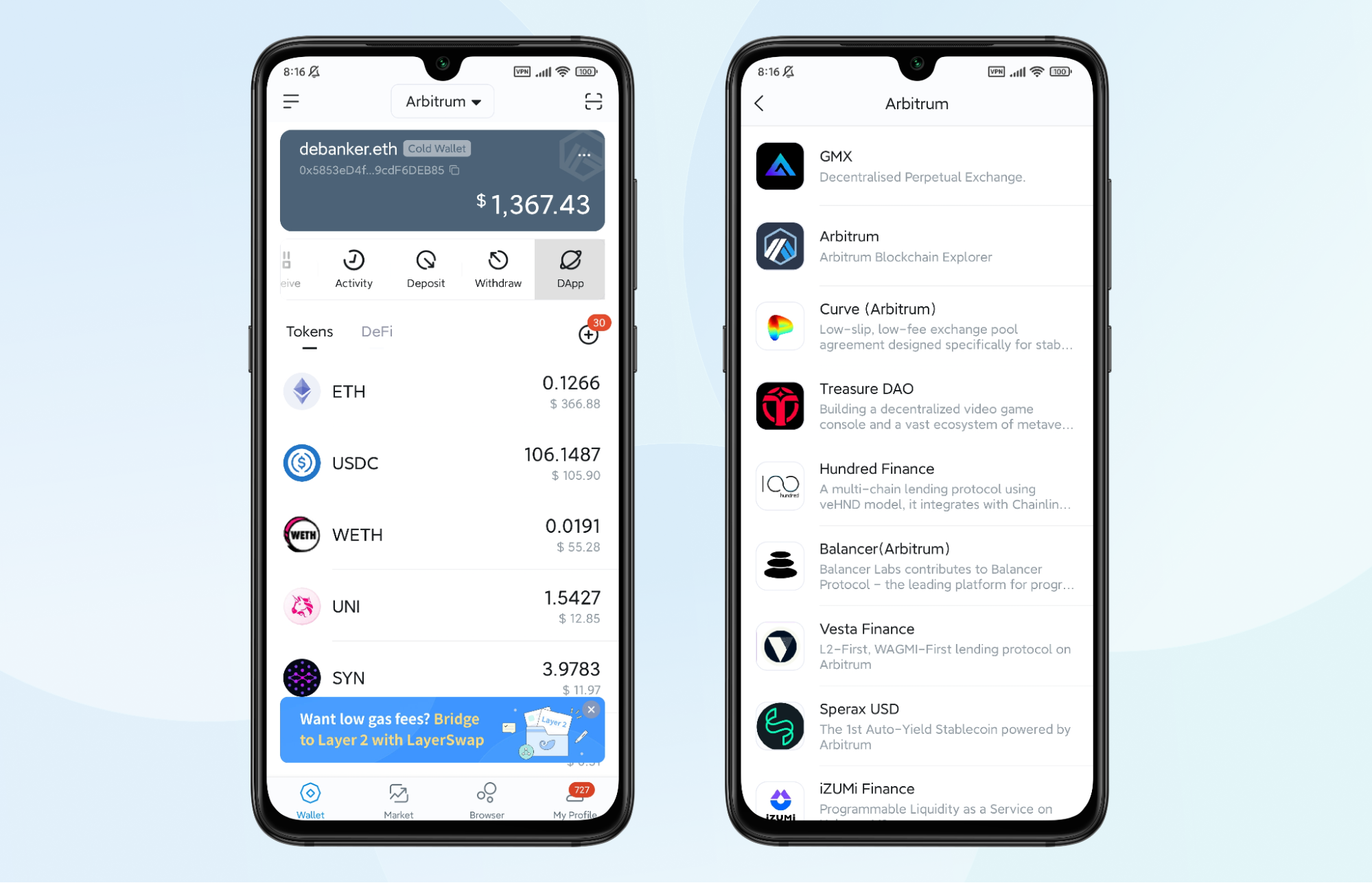 You'll notice how easy it is to switch from Ethereum Mainnet to Arbitrum (and other networks) right within a DApp. Thanks to EIP-3085 and EIP-3326 support, you can simply open GMX, Dopex, Curve (and 20+ other Arbitrum DApps) and get started.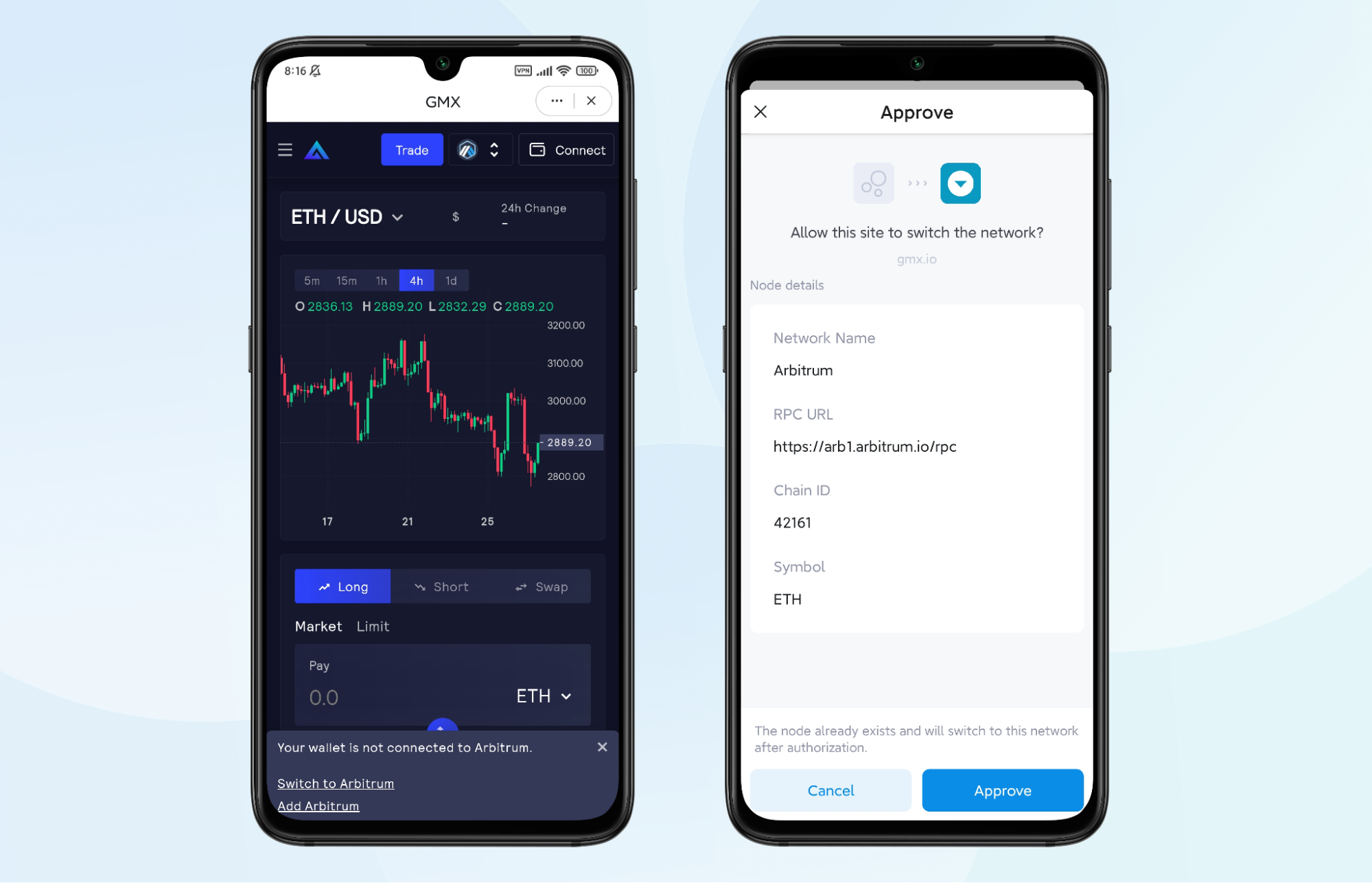 Or scan the QR code to use imToken on desktop DApps via WalletConnect!
Transparent: Get started with DeFi on Arbitrum
Get a quick understanding of all your actions on-chain.
The Account Activity takes technical information on Arbitrum, decodes and presents your transaction history in an easy-to-understand fashion.
We are scanning the chain for you, so you don't need to!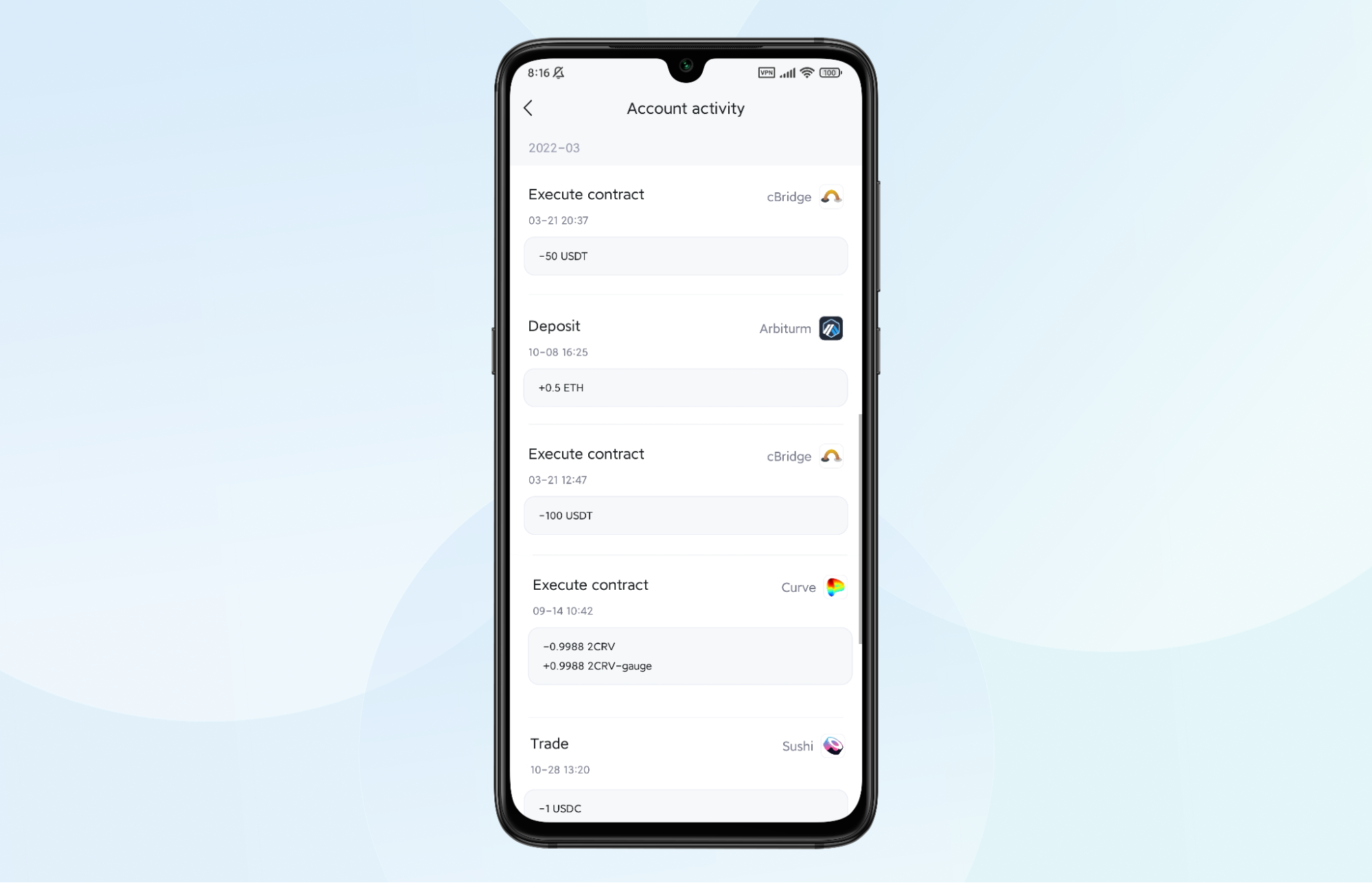 Convenient: Keep track of your balance
imToken lets you watch all token prices - including tokens on L2 - thanks to multiple pricing sources.
On top the wallet shows all locked, staked and invested balances via the DeFi Portfolio feature, powered by DeBank.
Click 'DeFi' to watch positions on Uniswap, SushiSwap, GMX, Dopex and many more protocols.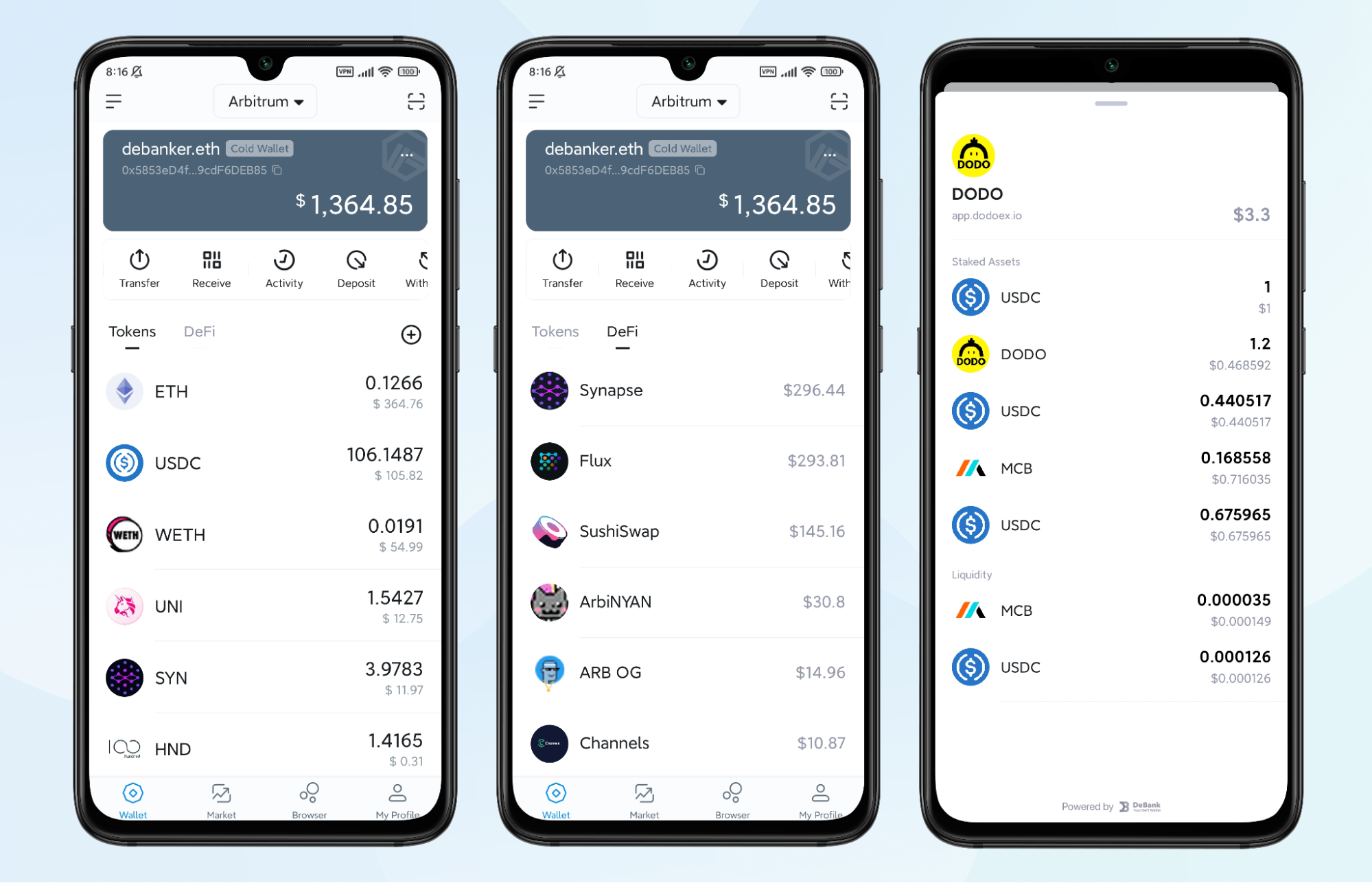 And if your friend sends you tokens? Don't worry, you won't miss it thanks to push notifications for transactions on all chains and now also Arbitrum!
More updates
Besides Arbitrum we also integrate a new Tokenlon feature. The DEX aggregator now lets you choose to pay gas fees with tokens - in case of an empty wallet - or with ETH - for zero minimum trade limits.
Have a wallet with only USDT but no ETH? No problem, just use the tokens to pay for your trade.
Other than that we introduce a few optimizations and bug fixes as well as support for the new Nervos (CKB) update, Mirana.
Layer 2 on imToken
We hope you enjoy this update and keep in touch with us on Twitter. We promise: More Layer 2 news for imToken and Tokenlon around the corner!
For best security on large amounts of crypto, consider our hardware wallet, imKey.
Download imToken: Google Play | Apple App Store
Follow us: Support | token.im