Dear all, 
After a thoughtful consideration from imToken team, we have decided to stop the service for the imToken 1.0 version at 18:00 (UTC+8) on November 11, 2020. For the specific announcement, please click to view the full version. I want to talk to you about reasons for migrating and what to pay attention to during the migration process.
Reason: Why migrate from the old 1.0 to the new imToken (version 2.0 and above)?
On November 11, 2016, we submitted the first version to the App Store. 
Since then, we brought a lot of updates to imToken. 2018, we finally decided to bring a couple of major updates in form of a completely overhauled app: The new imToken app (version 2.0 and above). The new imToken app features a fully-fledged DApp browser, multi-chain (including Bitcoin) support, a decentralized exchange and more, already in 2018. Today, it offers many more features and coins. Check out our homepage for an overview of current features.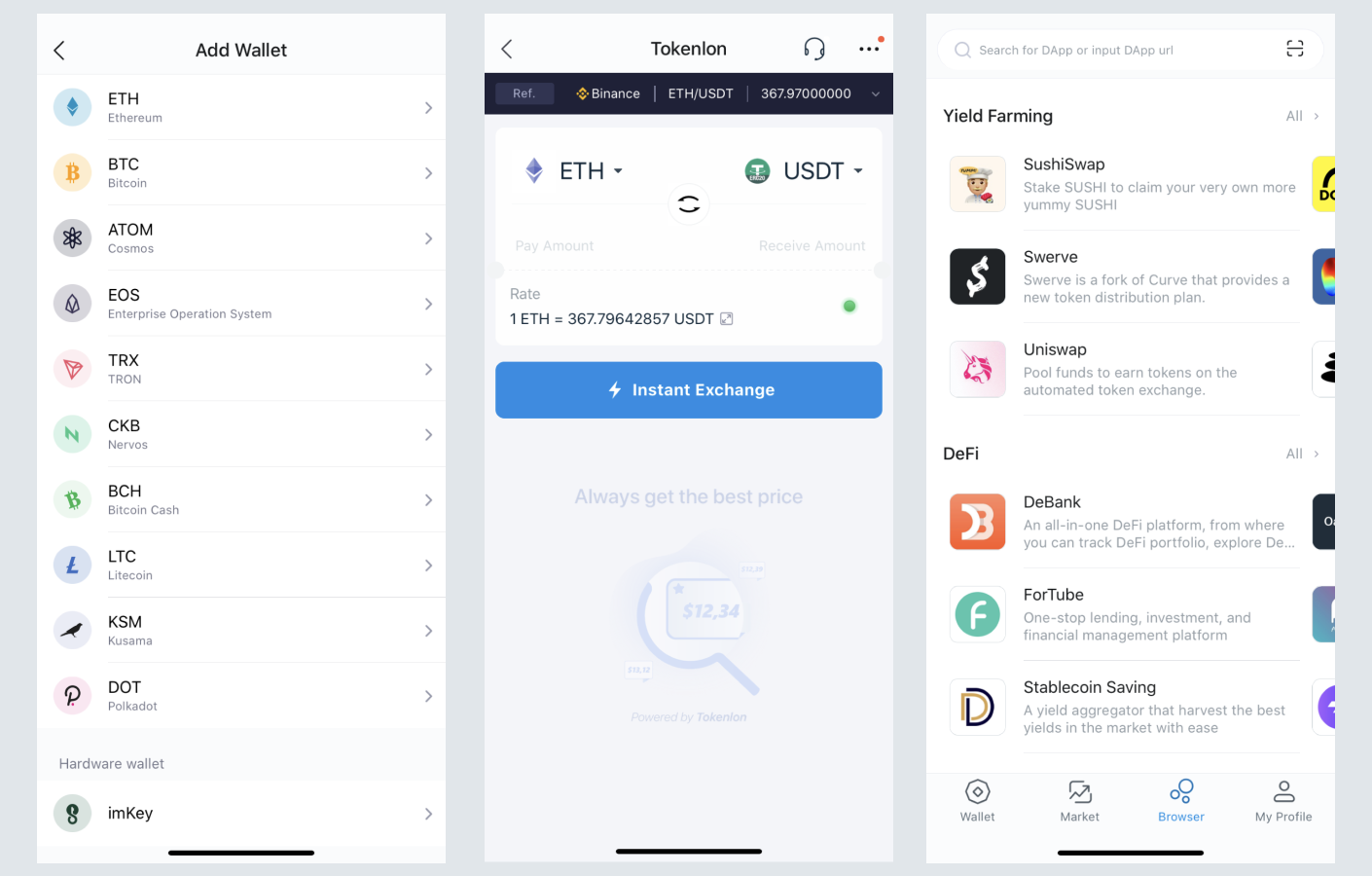 Do I need to migrate my current imToken app?
If you are using imToken 2.0 and higher, you are good to go. However, we recommend to always update your app on Google Play, Apple App Store or on https://token.im/ to get the latest updates, bug fixes and features.
If you are using imToken 1.5 and lower, we strongly recommend migrating your wallet to the new imToken app (i.e. version 2.0 and higher).
If you are unsure, which version you are using, open imToken on your phone, click "My Profile" → "About Us" in the lower right corner, and check the version information to confirm whether you need to migrate. If the version number starts with the number 2, such as version 2.6.3, your app is not affected and no migration is required. If it starts with the number 1, you need to follow the tutorial to migrate.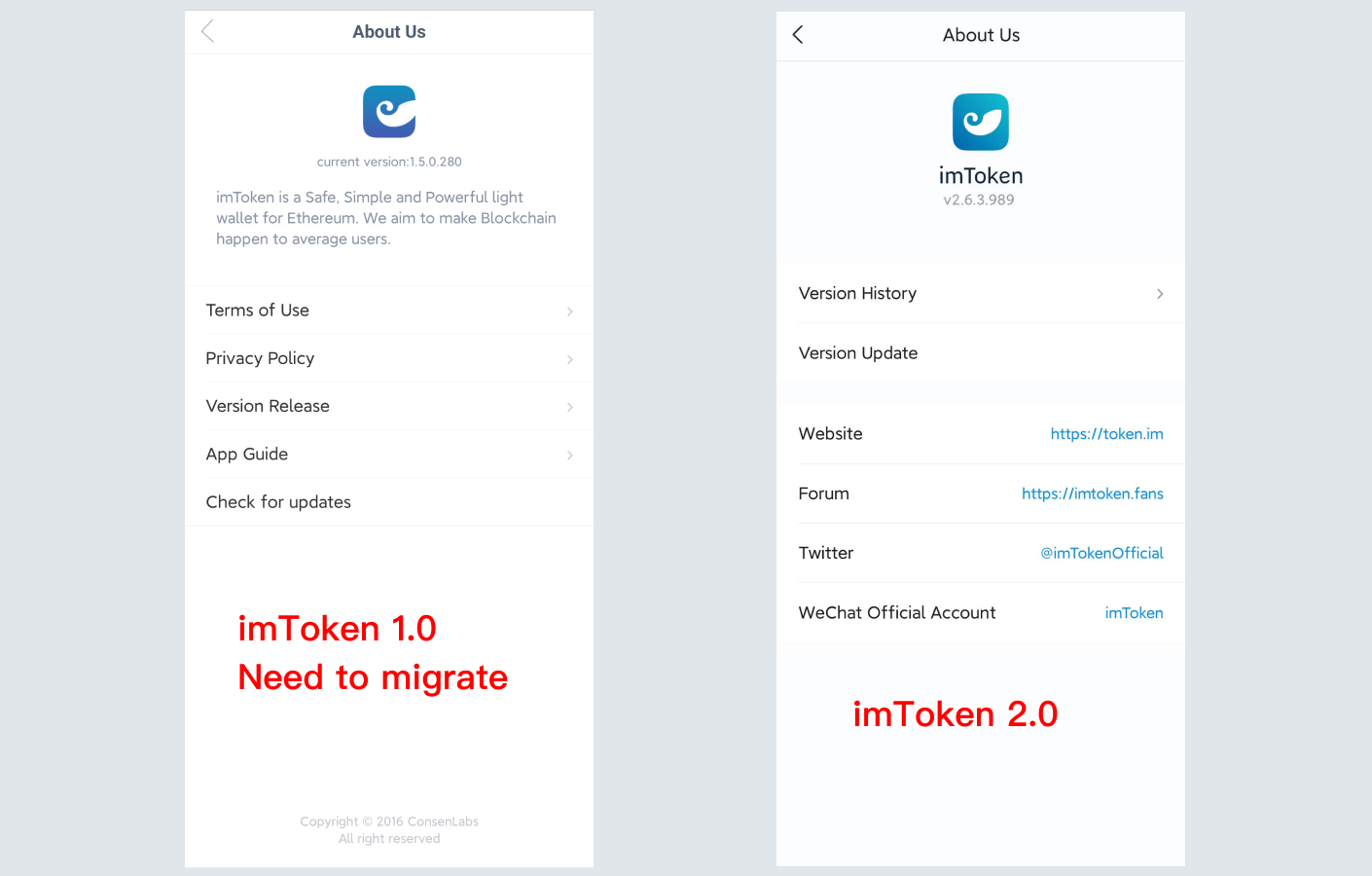 Security: What should I pay attention to when upgrading my wallet?
imToken is a non-custodial (or self-custodial) wallet. That means, you can use the imToken app to use your coins while imToken can't control your coins.
Since you, and only you, have the power to control your coins, you are also responsible to backup your wallet. If you lose your backup and wallet, you lose your coins, because imToken can't control your coins.
Therefore, backup your wallet before the migration process to the new imToken. We suggest to follow these guidelines for backups:
Private key storage, network isolation
Don't take screenshots. Those can be found by other people. Don't save your backup online. Those backups can be found by other parties and you might lose access. Online can mean only photo albums, cloud storage, instant messengers or others. Don't send your backup over the internet. This can be found by other people as well.
Keep the backup-key to yourself, do not share
Do not share your private key, mnemonic phrase or Keystore with anyone. We have data indicating that more than 50% of the theft cases are committed by acquaintances around you. The blockchain is anonymous, which will make it very hard to find any thieves. It's better to not share it with anyone. 
Double-check, don't confuse
After backing up the private key, mnemonic phrase or Keystore, import the above information into imToken 2.0 to check whether everything works as planned and you exported the correct wallet. For example, if you have two wallets, A and B, and you want to back up wallet A, but you end up recovering wallet B by importing wallet B's mnemonic. Double check.
Tutorial: How to migrate step by step!

How to migrate to imToken 2.0, text tutorial: https://support.token.im/hc/en-us/articles/900002593306