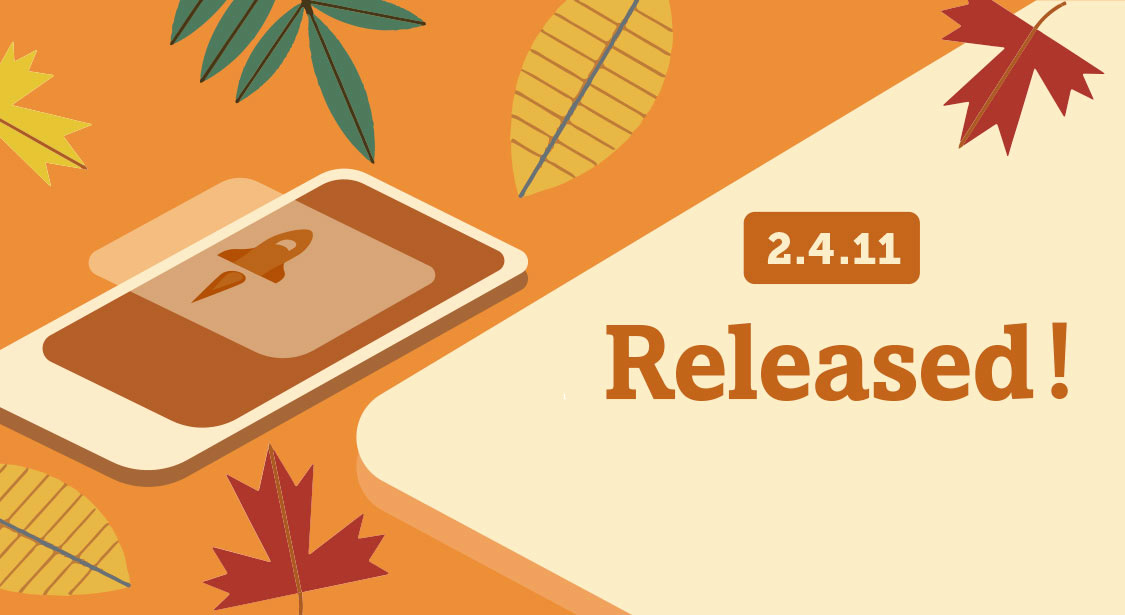 Gradually into the late autumn, take a cup of hot tea and take a look at the updated content of 2.4.11.
imToken 2.4.11 Update:
You can now copy or share the wallet address more easily on the receive page

You can now transfer BTC/ETH to friends, a domain name is enough! With our support of .eth /.zil multichain domains

imKey supports BTC OP_RETURN

More optimization and repair
Receive page optimization, copy/share address in one go
In imToken 2.4.10, we have completed the optimization of the new user experience, making the wallet creation, import/backup process even smoother. In this version you can copy or share addresses more easily on the receive page.
How to enter the receive page:
Select any wallet, tap the wallet address at the top of the wallet to display

Slide to the right on the asset to receive, such as DAI
(Note: ETH wallet address can be used to receive all ERC 20 tokens)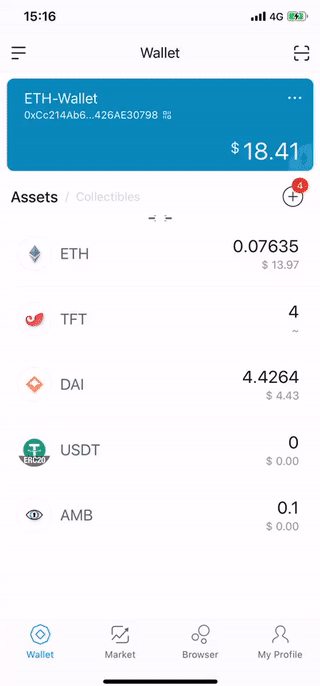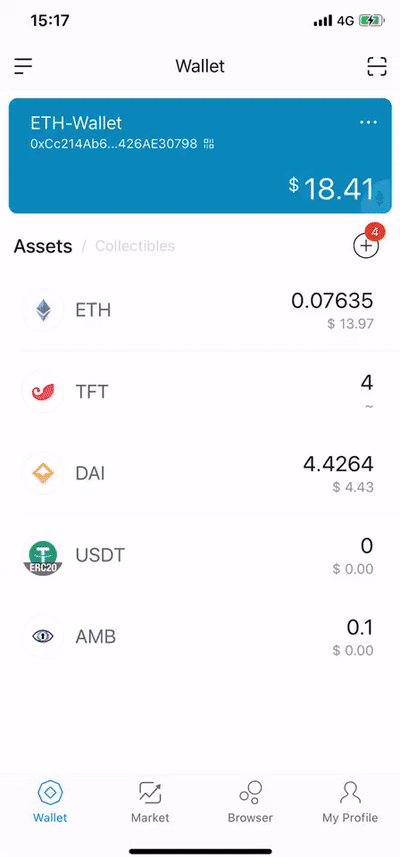 Left: tap the top address of the wallet|Right: right slide display
Multi-chain transfer, one domain name is enough
Maybe you remember ENS as the "easy to remember Ethereum address", which makes it easy to remember the long list of random numbers and letters that is an Ethereum address. Surprisingly, after more than two years of development, ENS now supports multiple cryptocurrencies.
This means that when you transfer money to a friend, you don't need to fill in the address of the wallet, for any chain: Bitcoin, EOS, Ethereum, you name it. If you transfer tokens in imToken 2.4.11, enter a .eth /.zil multi-chain domain name for improved efficiency.
Not sure what is parsing? Simply put,
Alice has an ENS short domain name (balabala.eth). When Bob transfers, the short domain name is filled in the payment address. imToken will automatically parse the domain name according to the parameters, and find the corresponding ETH wallet address: 0xda1d0c7f174effba98ea1e31424418dc9aeaea22. Of course, if you fill in a domain name that does not exist, you will get an error saying "The wallet address of the ENS domain name could not be found".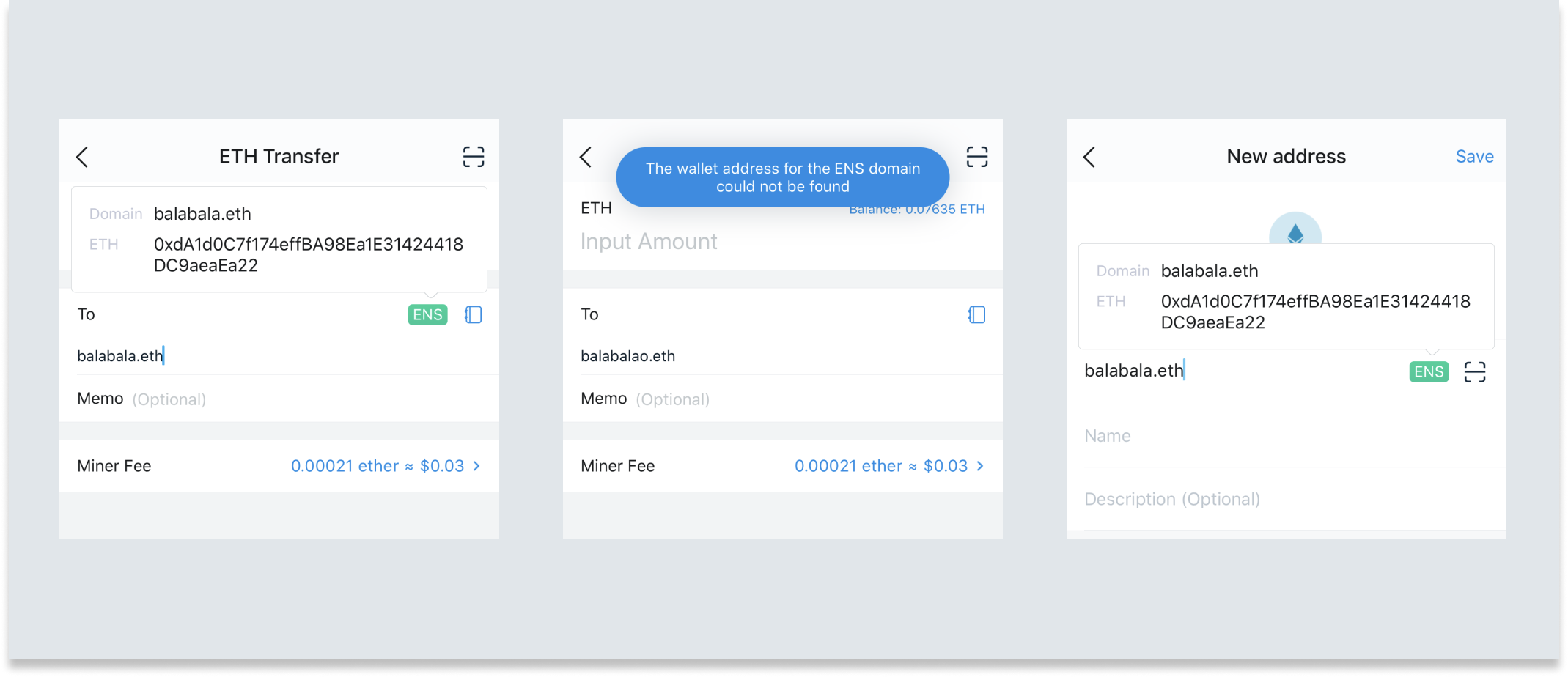 📌 How to buy ENS domains?
Select the "Browse" page - Find the "ENS" DApp under "Tools" and search for a name. Find the tutorial for a complete guide on how to purchase.
imKey supports BTC OP_RETURN
Following imToken in supporting BTC OP_RETURN, imKey also completed support. In simple terms, OP_RETURN is a function of "storing information" on the Bitcoin network, i.e. by writing hexadecimal characters to the Bitcoin network. With "OP_RETURN" the irreversible advantages of the BTC network can be used to permanently record important information on the blockchain, or to perform special operations (such as ChainX mining, imBTC subscriptions, etc.).
The imBTC issuance phase is over, but you can still get the interest by purchasing imBTC on Tokenlon:
How to purchase imBTC: Select the "Marketing" page - Use ETH / USDT in Tokenlon to redeem imBTC

imBTC Details: Select "Browse" page - Open "imBTC" DApp - all you want to know is here
Read how to set up OP_RETURN 
How to update to the latest imToken 2.0
Android users: You can download updates on the imToken website:

https://token.im

iOS users: App store is under review, thank you for your patience :)
For 1.0 users, please follow the tutorial below to upgrade 1.0 to 2.0 safely:
If you face any difficulty using imToken or have any comments and suggestions for us, please submit your feedback directly within the app.
Always backup your keys!
Before upgrading, please make sure that all wallet identities have been backed up properly. Please write down the Mnemonic phrase on a physical paper, never store it in the network;

Please restrain from sharing your private key, Mnemonic phrase or Keystore to anyone! If you find potential hacking activities in imToken, please report to us via email at [email protected] to prevent more people from being deceived;
Please have a look at our Help Center at

https://support.token.im/hc/en-us

for more detailed information about imToken.