How Gnosis Chain Works
The Gnosis Chain is built for quick and cheap transactions. Just like similar, new blockchains, Gnosis Chain is an EVM (Ethereum Virtual Machine) blockchain. This lets developers easily deploy smart contracts and DApps from Ethereum to the new chain.
Gnosis Chain uses two tokens. xDai is a stable token used for transactions and fees, and the STAKE token can be staked (as the name suggests) to power the chain's Proof-of-Stake consensus. Later, the GNO token will be used as a staking token.
xDai is Gnosis Chain's version of Dai, the stable coin issued by MakerDAO. Being used for fees, users can easily calculate any fees in USD value.
Gnosis currently supports two cross-chain bridge methods: xDai bridge and Omni bridge.
Gnosis Chain Features
Low fees

Fast transactions

Dual-token model: Stable coin xDAI and governance token STAKE (later: GNO)

EVM-compatible
Gnosis Chain Wallet
To get started, download the latest imToken from Google Play, Apple App Store.
Switching to Gnosis Chain Wallet
Click "Ethereum" at the top and select "Gnosis Chain" on the pop-up page to switch to the Gnosis wallet.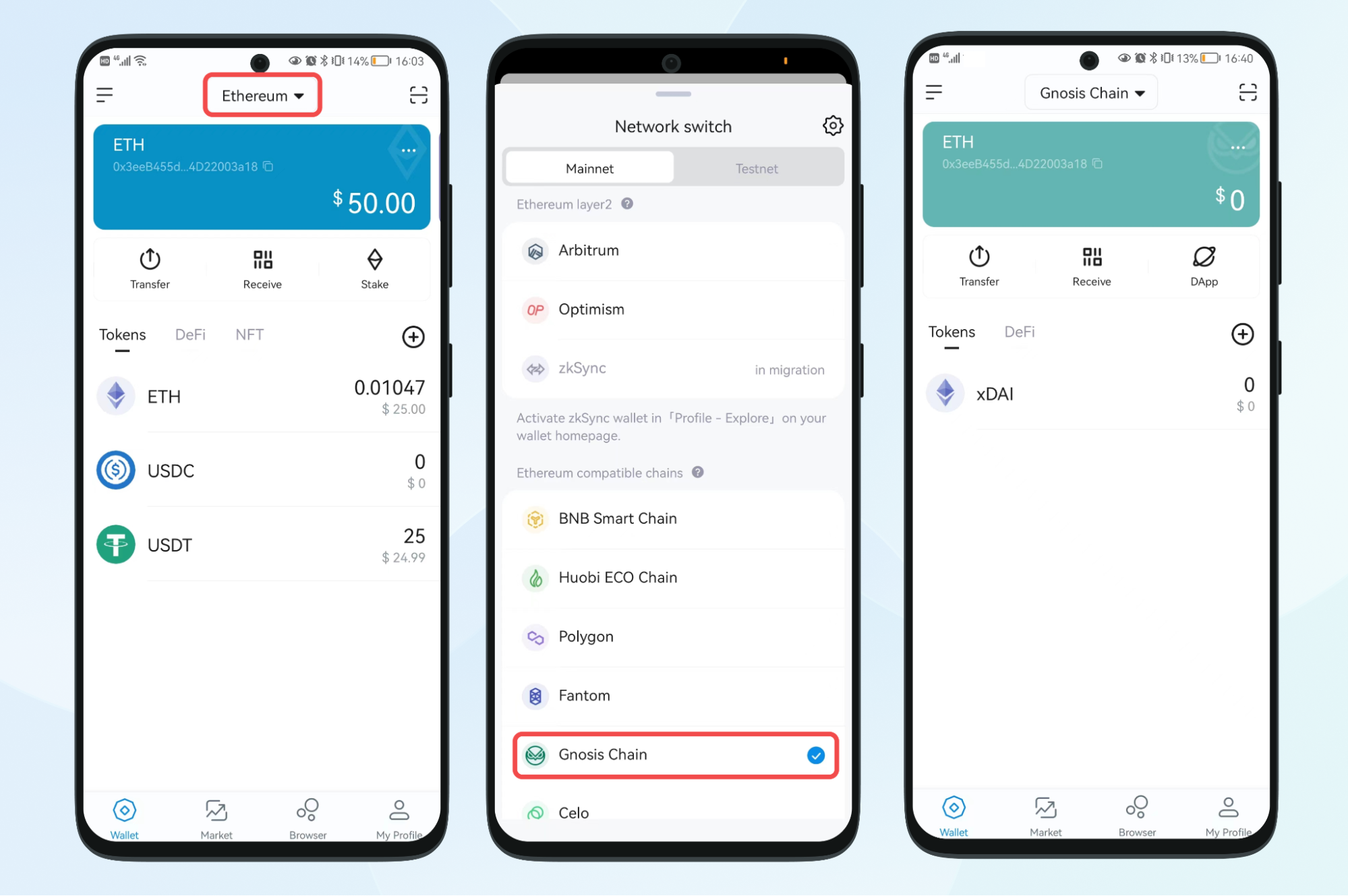 Note: Please ensure you have sufficient xDAI tokens in the wallet to pay the miner fee before transferring.
Switching Back to the Your Ethereum Wallet
Click "Gnosis Chain" at the top, and select "Ethereum" in the pop-up page.
Recharge on Gnosis Chain
You can transfer tokens to Gnosis Chain by two bridges: xDai Bridge and OmniBridge. Both are accessible in your wallet.
Converting Dai to xDai through the cross-chain bridge, your Dai will be locked in a smart contract in Ethereum. Your address on Gnosis Chain will generate an equivalent xDai token.
Converting xDai back to Dai through the cross-chain bridge, your xDai will be destroyed by the smart contract of Gnosis Chain. The locked Dai in the Ethereum smart contract will be returned to your Ethereum wallet address.
xDai Bridge
xDai bridge is a cross-chain bridge natively designed by Gnosis Chain team, which allows users to :
Send Dai tokens from Ethereum to Gnosis Chain and convert them into xDai tokens

Send xDai tokens from Gnosis Chain to Ethereum and convert them into Dai tokens
Omni Bridge
The Omni Bridge allows users to transfer tokens between Ethereum, Gnosis Chain, Binance Smart Chain and POA Chain.
Explore Gnosis Chain
A explorer helps you verify Gnosis Chain blocks, transactions, tokens, addresses and other information. It updates all node information of Gnosis in real time.
GNO price
Gnosis Chain Ecosystem
POAP

Ankr

Tornado Cash

Chainlink

SushiSwap

PoolTogether

 …
More Information